Things You Should Know About Singapore's NEW Richest Person, Facebook Co-Founder Eduardo Saverin
Move over, Ng brothers! Singapore's richest person is now 35-year-old Eduardo Saverin.
Since 2010, real estate magnates Robert and Philip Ng have topped Singapore's most wealthy list. That all changed recently, when Facebook co-founder Eduardo Saverin overtook the siblings after Facebook's stock went up by 13%, becoming Singapore's richest person, Forbes reports.
Saverin is now worth approximately US$10.1 billion, versus the Ng brothers' $10 billion. He gets most of his wealth from his stake in the $500 billion dollar social network, but has also made investments in several startups in and around Southeast Asia.
Richest man in singapore: 

But who exactly is Saverin? Read on to find out.
1. He met Mark Zuckerberg in Harvard
It was in his junior year in Harvard when Brazilian-born Saverin met sophomore Mark Zuckerberg. Together, they created a social network especially for Harvard students, which has since evolved into a platform we all use today: Facebook.
2. He and Zuckerberg haven't exactly had the best working relationship
In Facebook's early years, Saverin was the chief financial officer and business manager. But he and Zuckerberg haven't exactly had the best working relationship. Business Insider reports that when the company moved to Palo Alto, Saverin decided to stay behind on the East Coast and work on other business ventures.
When he started to feel left out, he froze Facebook's bank account. Zuckerberg then cut Saverin from Facebook and reduced Saverin's stake in the company, which resulted in multiple lawsuits that were eventually settled out of court. Saverin was given 4-5% of the company, and was reinstituted as a co-founder of Facebook.
3. He was played by Andrew Garfield in The Social Network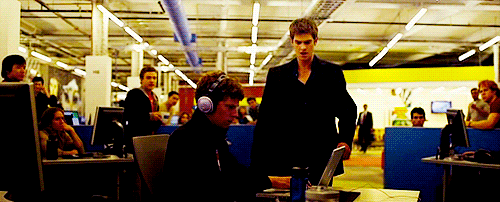 Those of you who have watched The Social Network will be familiar with the aforementioned startup drama. To refresh your memory, Saverin was played by Andrew Garfield, who was nominated for a BAFTA and a Golden Globe for his performance.
4. He has been living in Singapore since 2009
The 35-year-old entrepreneur has lived in Singapore since 2009. He gave up his US citizenship in 2011, right before Facebook's IPO. This move caused critics to conclude that he was doing so to avoid taxes. He responded by saying:
"My decision to expatriate was based solely on my interest in working and living in Singapore, where I have been since 2009… It is unfortunate that my personal choice has led to a public debate, based not on the facts, but entirely on speculation and misinformation."
5. He is married to Chinese-Indonesian Elaine Andriejanssen
Saverin met Andriejanssen while they were both students. She attended Tufts University. The couple got engaged in 2014, and got married in France in June 2015. Andriejanssen's family runs several businesses in Indonesia.
6. Singapore's richest person is now a venture capitalist
In 2015, Saverin founded B Capital Group, which focuses on helping B2B and B2B2C startups in Asia scale globally. Some of the startups that Saverin has invested in include Singapore-based 99.co, Philippine-based Ninja Van, and most recently, Indian fintech startup MSwipe.
READ: Starting A Business With A Friend: Is It A Bad Idea? 6 Tips To Make It Work